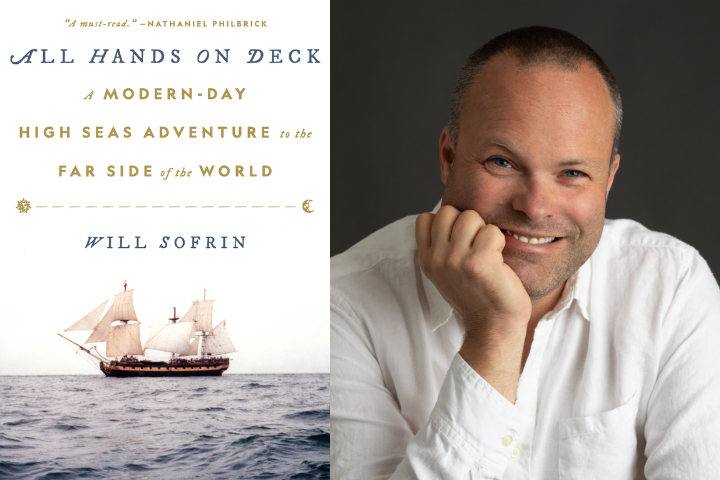 Join Author, Will Sofrin, as he recalls his time aboard the Rose while filming Master and Commander! Plus a Q&A and book signing!
July 10th at 5:30p at the Shipwreck and Lifesaving Museum.
The Gift Shop at the Shipwreck & Lifesaving Museum will be selling copies of All Hands on Deck this summer!

In the late 1990s, Patrick O'Brian's multimillion-copy-selling historical novel series—the Aubrey–Maturin series, which was set during the Napoleonic Wars—seemed destined for film. With Russell Crowe as Jack Aubrey and Paul Bettany as Stephen Maturin, the production only needed a ship that could stand in for Lucky Jack's HMS Surprise, with historical accuracy paramount. The filmmakers found the Rose, a replica of an 18th-century ship that would work perfectly. Only there was one problem: the Rose was in Newport, Rhode Island, not in Southern California, where they would be filming. Enter a ragtag crew of thirty oddballs who stepped up for the task, including Will Sofrin, at the time a 21-year-old wooden-boat builder and yacht racer, who joined as the ship's carpenter.

All Hands on Deck is Sofrin's memoir of the epic adventure delivering the Rose to Hollywood. It's a story of reinvention, of hard work on the high seas, of love, and of survival. The Rose was an example of the most cutting-edge technology of her era, but in the 21st century, barely anyone had experience sailing it. The crew effectively went back in time, brought to life the old ways of a forgotten world, and barely lived to tell the tale. Just a few days in, a terrifying hurricane-strength storm nearly sank the Rose, and later, a rogue wave caused a nearly fatal dismasting. And the ups and downs weren't limited to the waves—with the crew split into factions, making peace between warring camps became necessary, too, as did avoiding pirates and braving the temptations of shore leave. All Hands on Deck is a gripping story of an unforgettable journey and a must-read for fans who adore O'Brian's novels and the dramatic film adaptation of Master and Commander.
We understand that plans change! Because we are a small non-profit, cancellations make it challenging for us to manage program enrollment. Tickets to all EMI programs are fully refundable up to three days before the scheduled program. Tickets are non-refundable if you cancel within 72 hours of the scheduled program. Tickets are eligible for an exchange before the date and time of the scheduled program. If you wish to reschedule, please contact us at egan@eganmaritime.org
While EMI intends to provide all programming as scheduled, occasionally, we have to cancel or reschedule for unforeseen circumstances. In the event of a cancellation by us, we will make every effort to provide a ticket exchange at an amenable date and time to both parties and if we cannot, we will refund the purchase and credit the original payment method.