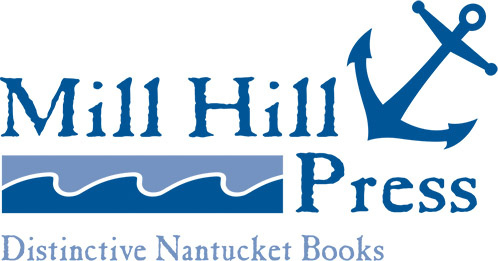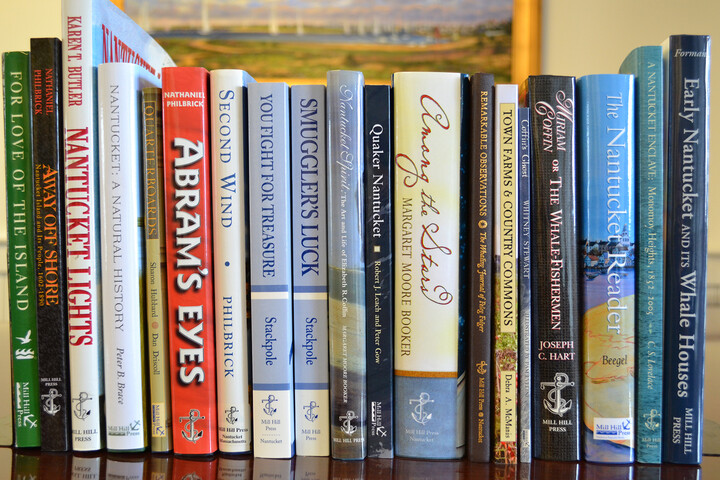 Mill Hill Press offers unique books on Nantucket history and the island's contributions to art, ecology, and social order of inclusion and tolerance.


To Purchase
The Museum Shop has been called the "Best bookstore between Lisbon and downtown Nantucket." Visit us, and you will find a collection of new and used maritime books unique on the island and a wide selection of nautical-themed gifts and toys. The shop is open in the museum from late May until mid-October; throughout the year, you may purchase gifts or books by contacting us at (508) 228 1885 or shop@eganmaritime.org.
Select Mill Hill Press titles are available at the following booksellers:
Maria Mitchell Assoc.
4 Vestal Street
Mitchell's Book Corner
54 Main Street
Nantucket Bookworks
25 Broad Street
The Hub
31 Main Street
Whaling Museum Shop
13 Broad Street
Isaiah Thomas Books
4632 Falmouth Road
Cotuit, MA
Nonfiction
Nantucket Lights: An Illustrated History of the Island's Legendary Beacons
By Karen T. Butler
This beautifully illustrated book recounts the fascinating history of Nantucket's legendary lightships, its three lighthouses, and the people who worked to keep their lights shining brightly. 1997, hardcover $45.00.
Remarkable Observations: The Whaling Journal of Peleg Folger, 1751 – 1754
Peleg Folger, at age 17, sailed into Arctic waters in search of whales on Nantucket-based vessels as small as fifty feet in length. It is an absorbing human document by an extraordinary young man. 2006, hardcover $22.00.
Early Nantucket and Its Whale Houses
By Henry C. Forman
"Anyone with a feeling for Americana will appreciate the Williamsburg-by-the-sea quality of the book." – New York Times Book Review. An in-depth study of the distinctive architecture of the island's evolving whaling community. 1991. Second edition, Reprint hardcover $29.95.
Among the Stars: The Life of Maria Mitchell
By Margaret Moore Booker
"A landmark achievement that shows how a young woman from Nantucket had a lasting impact on science, education, and women's rights in America and the world." – Nathaniel Philbrick, author of Away Off Shore, In the Heart of the Sea, and Mayflower. 2007, hardcover $59.95.
Town Farms and Country Commons
By Debra McManis
While sailors, whalers, and fishermen followed the vocations that made the island famous, other Nantuckers, beginning with Native Americans, grew the food that supported the population. 2010, paper $18.95.
A Nantucket Enclave: Monomoy Heights, 1852-2005
By C. S. Lovelace
For more than a century, the forces that shaped Nantucket have resided in Monomoy Heights, as the island has evolved from a sleepy seaside community to a bustling summer resort and vacation destination. 2005, paper $30.00.
Quaker Nantucket - TEMPORARILY OUT OF PRINT
By Robert J. Leach and Peter Gow
Based on the original research in records long thought lost, Quaker Nantucket explores the spectacular growth of Quakerism on the island and its equally astonishing decline amidst the collapse of the whaling industry a century later. 1997, paper. This title is temporarily out of print.
Nantucket Spirit: The Art and Life of Elizabeth Rebecca Coffin
By Margaret Moore Booker
This elegantly written and lavishly illustrated volume brings to life an extraordinary Nantucket artist. Elizabeth R. Coffin (1850-1930) preserved in her canvases the people, landscapes, and rural lifestyles that were fading from the island. 2001, hardcover $35.00.
Life Saving Nantucket
By Edouard A. Stackpole

Written by former Nantucket Shipwreck & Lifesaving Museum director, Edouard A. Stackpole, Life Saving Nantucket documents the triumphs and tragedies of a hardy breed of islands who, as volunteers, manned the early Massachusetts Humane Society sites and risked their lives to save those in peril. 1972, hardcover $25.

Fiction
Miriam Coffin, or the Whale-Fisherman
By Joseph C. Hart, with an introduction by Nathaniel Philbrick
Based on the life of the Tory "she-merchant" Kezia Coffin, this reprint of the 1835 novel presents a detailed picture of the island of Nantucket when it was the whaling capital of the world. 1995, hardcover $23.95.
Young Readers
Coffin's Ghost
By Whitney Stewart
In Coffin's Ghost, two young off-islanders, Anna and Nat, come to Nantucket to visit Papa Henry, their grandfather. On-island, they begin a journey through the island's maritime past in search of pirate treasure. 2009, paper $16.99.
Smuggler's Luck
By Edouard A. Stackpole
Originally published in 1931, Smuggler's Luck recounts the adventures of a Nantucket boy, Timothy Pinkham, during the American Revolution. 2005, paper $20.00.
You Fight for Treasure
By Edouard A. Stackpole
Originally published in 1932, this book is the second of four in Stackpole's series of adventure stories of Timothy Pinkham. 2006, paper $20.00.