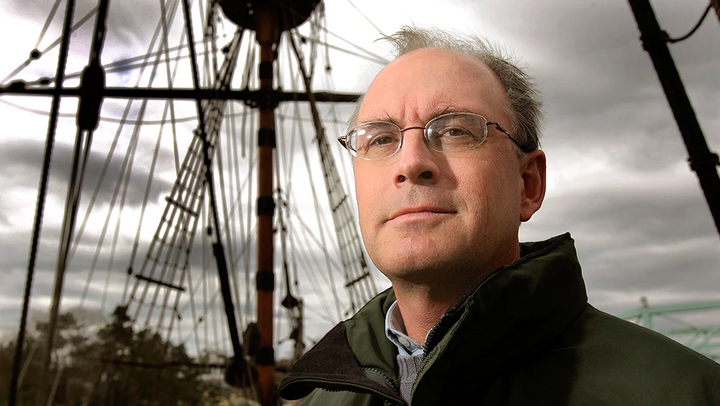 Egan Maritime Institute is thrilled to host an evening with the organization's founding executive director, Nathaniel Philbrick on August 11, 2022 at the Nantucket Yacht Club. Guests will be treated to a nautical themed lecture, focused on Philbrick's newest book, Travels with George.
Travels with George, asks the essential question - does George Washington still matter? Philbrick argues for Washington's unique contribution to the forging of America by retracing his journey as a new president through all thirteen former colonies, which were now an unsure nation.
Writing in a thoughtful first person about his own adventures with his wife Melissa and their dog Dora, Philbrick follows Washington's presidential excursions: from Mount Vernon to the new capital in New York; a month-long tour of Connecticut, Massachusetts, New Hampshire, and Rhode Island; a venture onto Long Island and eventually across Georgia, South Carolina, and North Carolina. The narrative moves smoothly between the eighteenth and twenty-first centuries as we see the country through both Washington's and Philbrick's eyes.
Philbrick, will weave stories of Nantucket's seafaring legacy with stories from his 2018, journey into what Washington called "the infant woody country".
In addition to being Egan Maritime's founding director, Nathaniel Philbrick is the author of In the Heart of the Sea, winner of the National Book Award; Mayflower, finalist for the Pulitzer Prize; Valiant Ambition, winner of the George Washington Prize; Bunker Hill, winner of the New England Book Award; In the Hurricane's Eye; Sea of Glory; The Last Stand; Why Read Moby Dick?; Away Off Shore; and Second Wind.
The evening will include a lecture with Nathaniel Philbrick, a live Q&A with the author, as well a cocktail party following the lecture. Tickets are $150 for EMI members and $175 for non-members.
August 11, 2022 | 5 – 7 p.m. | Nantucket Yacht Club
This event is generously sponsored by Berkshire Hathaway HomeServices Island Properties, Egan Sign and the Nantucket Book Foundation.