Apr 16, 2019 · Museum
Below Decks, by Rodney K. Charman. Purchased by Albert F. "Bud" Egan from the artist in 1995, and donated to Egan Maritime soon after. As of 2016, the original painting is now part of the Knights of Columbus Museum collection.
New Museum Exhibition Recounts Historic Shipwreck and Rescue Near Nantucket
By William Ferrall
The crew and passengers of the full-masted sailing ship British Queen expected the worst after being stranded off Nantucket on December, 17, 1851. Blown off course in its journey from Dublin to New York City, the ship had gone aground in a snowy blizzard, in icy shallow water 12 miles from Nantucket Harbor.
Captain Christopher Conway ordered his ship's sails to be cut and stowed away to stabilize the ship in the roaring wind; seawater washed over the ship and began filling the passenger hold. The more than 200 Irish souls on board, immigrants journeying in hopes of better lives in America, had endured a 3,000-mile trip during an unexpected two months at sea and were now facing probable death. Drenched and cold, they huddled together in groups to ward off the life-threatening elements.
Thankfully, a fire-watchmen in a Nantucket church tower spotted the ship in distress. Almost 36 hours after the British Queen was grounded, seasoned mariners on the island were able to launch a harrowing rescue effort, which saved the lives of all on board, including families with children and the ship's crew. In the end, just two already-ill passengers had died during the British Queen's stranding, before the Nantucket lifesavers arrived.
Accounts of the dramatic rescue tell about the touch-and-go transfer of passengers from the British Queen by harnessing them in ropes and lowering them onto boats from Nantucket—a group of two schooners and a paddlewheel steamboat put into service as rescue craft. The height of Nantucket's well-known important history as a whaling port had passed, but many expert seamen still lived on the island and were part of seafaring ventures including the salvaging of wrecked ships.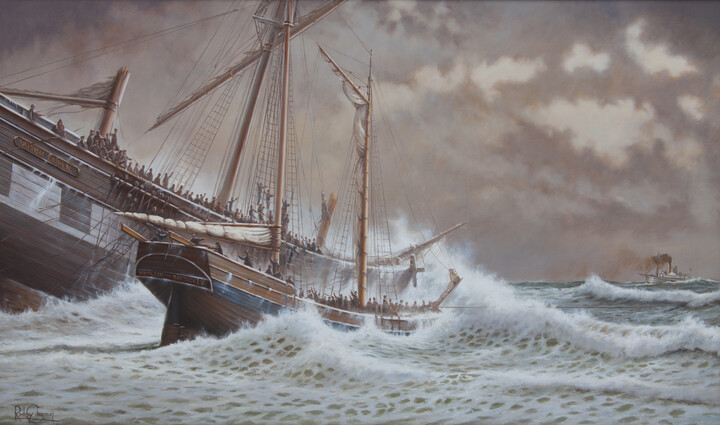 Once aboard the Nantucket vessels, the passengers from the British Queen were taken to the island's Straight Wharf, where townspeople welcomed them with dry clothes, food, and shelter in heated churches, public buildings, and private homes.

After a six-day stay on the island, most of the British Queen passengers continued their trip to New York on Christmas Day, 1851, aboard the Telegraph, the same paddlewheel steamer that had been part of their rescue. A few stayed behind, reportedly appreciative of the warm welcome given to them on Nantucket and happy to settle there instead of venturing further.
Today, descendants of both the British Queen rescuers and its passengers are among Nantucket residents. Prominent among descendants of survivors is the Mooney family, descended from passengers Robert Mooney and his recent bride Julia. Parents of seven children, the couple became prosperous farmers on the island. Their grandson served as sheriff on the island, and their great-grandson Robert F. Mooney, who died in 2016, became a prominent local lawyer, historian, and author who was elected to the state legislature and whose children currently live on Nantucket. He also served on the board of Nantucket Shipwreck and Lifesaving Museum. One of the only known physical remnants of the wreck, the quarterboard from the British Queen, is owned by the Mooney family and will be part of this summer's museum exhibit.
Maritime disasters often leave heartbreaking memories for survivors and rescuers. The fate of the British Queen, one of the many "Coffin Ships" or "Famine Ships" put into service for transporting struggling Irish citizens to North America during Ireland's years of poverty and famine, includes salvation and hope still echoing today.

"British Queen" 2019 exhibit details at Nantucket Shipwreck & Lifesaving Museum
Opening in late May and running through Columbus Day, the British Queen exhibit, When All Hope Had Died: the Wreck of the British Queen, features first-hand accounts of the shipwreck, contemporary newspaper reports, and stories of the Irish immigrant experience from their homeland and streets of Dublin to their landing on Nantucket's Straight Wharf.

The dramatic account of the wreck of the British Queen will include:
Contemporaneous documents, graphic depictions, and audio
A brief documentary film to introduce the exhibit and its historic settings
Details with illustrations of how rescuers successfully saved all passengers
How Nantucket residents welcomed and cared for passengers
Display of the British Queen quarterboard
Nantucket Shipwreck & Lifesaving Museum, located just over three miles from Nantucket Town at 158 Polpis Road, opens for the 2019 season on Saturday, May 25 at 10 am, through Columbus Day, Monday, October 14. Museum hours are Monday through Saturday 10 am – 5 pm and Sundays noon – 5 pm. Group tours are welcomed and may be arranged by calling the Egan Maritime office at 508-228-2505. The museum can be reached by car, bike, taxi, Egan Maritime's Shipwreck Shuttle or via Nantucket's public bus system The Wave - Polpis Route. Admission is free to members. Non-member adults are $10; seniors and students are $7; youth 6-17 are $5.00; children under six are admitted free. The museum participates in the Blue Star program offering active members of the military and their families free admission.

Nantucket Shipwreck & Lifesaving Museum is the oldest of its kind in the U.S. and part of the Egan Maritime Institute. The museum celebrated its 50th anniversary in 2018.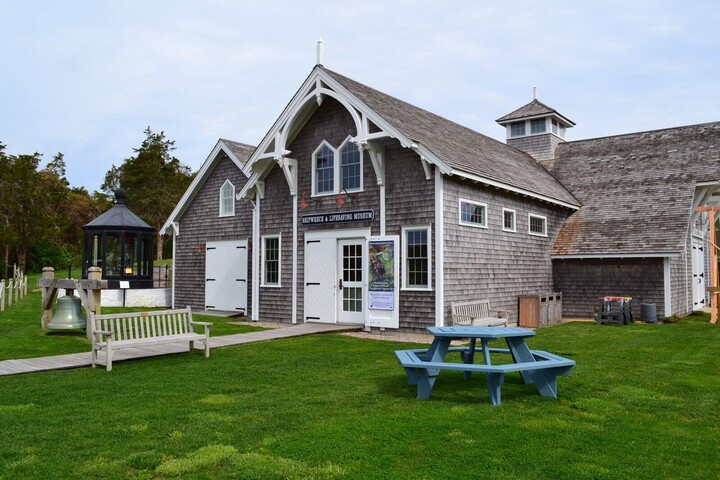 About Egan Maritime Institute and Nantucket Shipwreck & Lifesaving Museum
Egan Maritime Institute is a non-profit organization celebrating the rich maritime history of Nantucket Island. Egan Maritime took shape when Nantucket native Albert F. "Bud" Egan, Jr. and his wife Dorothy H. Egan created a foundation in 1989 to highlight the island's sea-faring heritage. In 1992, Bud Egan negotiated a lease with the trustees of the Coffin School, where he housed his family's extensive maritime art and artifacts. The institute also incorporated the eight-year-old Mill Hill Press, which named National Book Award winner, Nat Philbrick, as the organization's first executive director.
Since then, Egan Maritime has worked with on-island and off-island organizations to present a calendar of enlightening and entertaining programs including publications of Mill Hill Press, annual exhibits at Nantucket Shipwreck & Lifesaving Museum, guest speakers, films, art exhibits and concerts. In 2012, Egan Maritime Institute launched its Sea of Opportunities education program to bring experiential on-the-water education to local youth.
Exhibit info including group tours: Chuck Allard, Museum Manager
callard@eganmaritime.org • 508-228-2505