Feb 19, 2019 · Sea of Opportunities
Evan Schwanfelder Enriches Island Classrooms with his Steadfast Enthusiasm for Nantucket's Seafaring History and Coastal Community
By Michelle Cartwright Soverino

Throughout the winter and spring, Egan Maritime is working with all island schools to provide hands-on maritime education to a wide range of Nantucket students. Part of the Sea of Opportunities program, these school collaborations are led by Evan Schwanfelder, Egan's Manager of Maritime Education, who enhances his lessons with his steadfast enthusiasm.
"I love the maritime community on Nantucket and being a part of an organization that is the vanguard of that history and education. I love the ability to be creative with my lessons while exploring alternative teaching methods that really engage all students of their learning modalities," said Schwanfelder. "We connect centuries of seafaring history and science with our current day coastal community that are underpins of Nantucket's cultural legacy and also the overall American experience of our maritime nation."
Schwanfelder joined Egan Maritime in the spring of 2018. He has a background in education, holding a Masters of Arts in Teaching with a specialization in secondary social studies. When you pair his professional acumen with his passion for all things that happen on the water—boating, fishing, and most recently, Tall Ship sailing—impactful teaching experiences for Nantucket's students are created. In his role with Egan, Schwanfelder is charged with curating experiential seafaring lessons to offer all island public and private schools, from kindergarten to grade 12, as part of the Sea of Opportunities maritime education program. These lessons and school collaborations are offered to all island educators and their students thanks to the generous contributions of Egan's supporters. Throughout the 2019 spring term, Schwanfelder is teaching with the Nantucket High School, the Nantucket Lighthouse School, and the Nantucket New School, in addition to planning a variety of programs for Egan's upcoming 2019 summer season.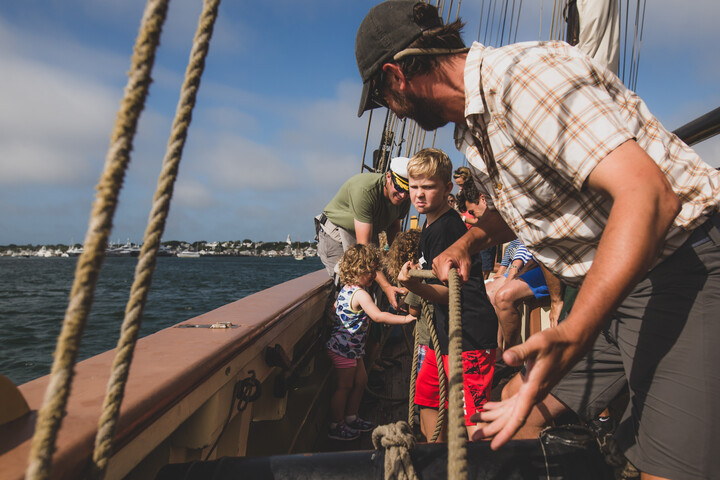 Working alongside Andrew Viselli, Coordinator of the Education Success Program at Nantucket Public Schools, Schwanfelder is bringing boat design and building to a select group of Nantucket High School students with weekly classroom visits. "The program is a nontraditional classroom that acts as an 'alternative program' for students requiring certain academic and behavioral support. The students have all exhibited difficulty in one of the following areas: attendance, behavior, and repeated academic failures. The program tailors its services to the individual students needs. Academic success has been the focal point of the program since its inception, achieving this through relationship building, respect, and most importantly trust," said Viselli. Schwanfelder has found that teaching boat design over the centuries is a great tool to connect island students to Nantucket's vast maritime history as they are able to apply knowledge learned to modern-day scenarios and trades. "It's great to see students respond so well to this curriculum as most of them don't have access to recreational boats or sailing experiences outside of my lessons. They've been on the M/V Eagle, they've seen sail boats in the harbor, but they've never been given the opportunity to learn what goes into these vessels, or how to harness the wind to make a sail boat go in a certain direction. They now have an introduction into what makes Nantucket such a special place to grow up: living alongside and working with the ocean," said Schwanfelder.
Currently, the high school students are constructing boat models with simple crafting materials. They're forming hull shapes by laying a keel using tradition strategies to form ribs. "We have full engagement in the classroom, and the students are really working through the design and testing process with great problem solving," noted Schwanfelder. In the coming weeks they will add sails, a rudder, and ballast before making their models water proof. The designs are their own, and each model is tested for buoyancy, stability, displacement, and maneuverability.
Speaking with Viselli about the collaboration, he shared, "Evan has been a perfect fit working with our kids. He is energetic, thoughtful and most importantly respectful of their learning styles and their emotional well being. With an end goal in mind, Evan has brought to the group a well thought out lesson plan that builds upon each session, making sure to revisit the key components of the previous meeting, building confidence in the students and capitalizing on that. The students are engaged and in constant motion, excited to see what the next step will bring. Ultimately this collaboration is critical in the overall development of the whole-child and their ability to develop a sense of self, team work, perseverance and grit. Keys for our children to see beyond the high school years."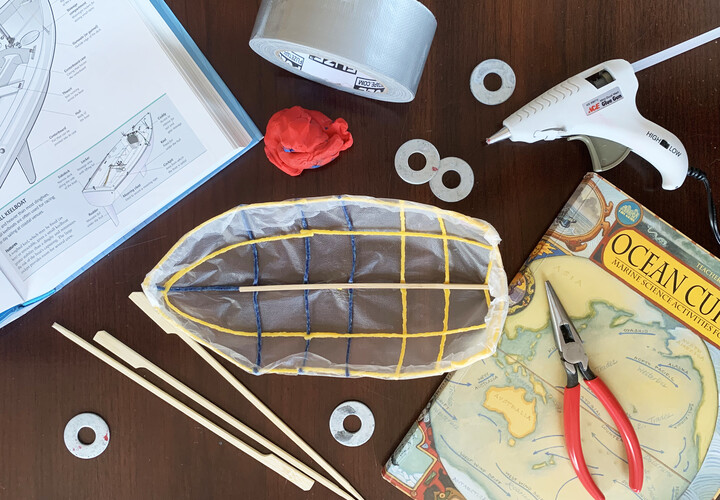 After testing, the students will go back to the design table to make adjustments in hopes to improve their models to make the most efficient design possible. The end goal is for completed remote controlled models to be ready for racing this spring in Nantucket's harbor, where students will be able to apply their classroom knowledge to a tactile experience. "They were into the project from the beginning," said Schwanfelder, "but once the building process happened we saw critical thinking develop, and students began troubleshooting based on trial and error, which is always what an educator wants to see."
In all of Schwanfelder's school collaborations (read about the Nantucket Lighthouse School here, and the Nantucket New School here), he infuses the same teaching mission, "to connect local youth living in a coastal community to their rich maritime history by providing project-based lessons that enrich their island experience and sense of home. These lessons connect them to academic and professional opportunities in maritime industries, many of which are vital to the island, that they might not know exist if it were not for Sea of Opportunities," said Schwanfelder. He went on, "having only been at Egan Maritime for one calendar year, I'm amazed with the number of local students who don't know about the maritime opportunities that are out there for them—opportunities that come with stability, excitement, and also a real connection of service to Nantucket."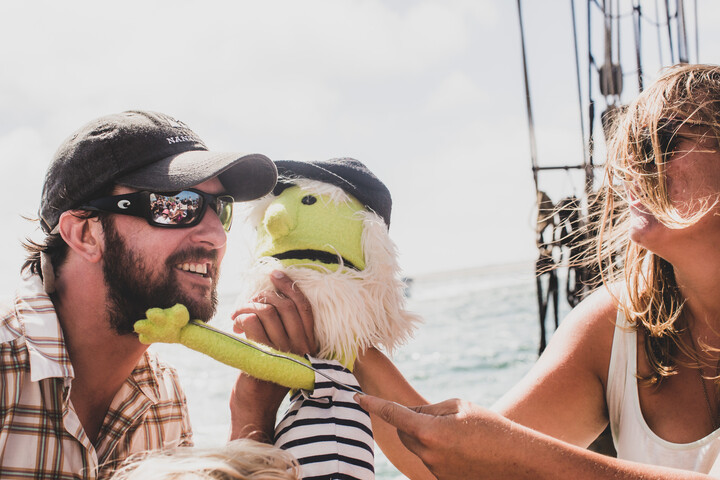 Schwanfelder's influence is not only in the classroom. In the spring when Tall Ship Lynx returns to Nantucket, it is his charge to coordinate school field trips on the vessel, and wrap in lessons that are meaningful with the overall experience. In 2018, his work made way for more than 400 Nantucket youth to get out on the water for a sail, and hundreds of patrons over the summer. "One of the most fun and rewarding parts of my job is having the opportunity in the spring and summer to get kids aboard Tall Ships and even sail alongside some of them on overnight sails. I get to make my curriculum come alive in a real world setting on the water where these kids learn the skills of Tall Ship sailing as well as complex team building in tight quarters at sea." Schwanfelder spent a total of 15 days at sea in June of 2018 with three different Egan Maritime Student Mariner groups sailing aboard Lynx and Northeast Maritime Institute's Tall Ship Fritha, and that does not include his time on the water for day sails.
Serving Egan Maritime in his role as educator, Schwanfelder brings his own student experiences with him. "I've always learned best by seeing and doing, with a real hands-on element. My background is history and teaching, which dovetails beautifully with my love of the sea and being on the water. I've worked in classrooms guiding kids and out in Wyoming as a fly fishing guide. Sea of Opportunities brings all of these joys into one role where I can share my passions and my background to enrich island youth," he said. Finding the right educator for Egan's Sea of Opportunities school collaborations and Tall Ship program was a tall order. "We needed a teacher with a focus on maritime history who would be open to many hours on the water and many nights at sea. We needed someone who was creative with a focus on science, someone able to work with the entire age spectrum of primary and high school education, and someone who could write curriculum but also create inspiring public programs for the summer months out at the Shipwreck & Lifesaving Museum and aboard Tall Ship Lynx. That someone was Evan, and we are so fortunate to have him," said Egan's Executive Director, Pauline Proch.