Oct 23, 2019 · Events
The Continuation of Nantucket's Lifesaving Legacy
By Olivia E. Jackson

For the first time in the event's fourteen year history, at Egan Maritime's Lifesavers Recognition Day ceremony, both honorees received the Maurice E. Gibbs Commendation Award. The award was instituted to recognize individuals who, like its namesake, go above and beyond in the duties of their profession, and in their commitment to serving others and the community. It was a privilege to honor Maurice E. Gibbs with the inaugural award, as well as Jennifer Hudson, the Director of Instruction at Sankaty Head Golf Club. Both recipients exemplified the unwavering human spirit of Nantucket's lifesavers past and present, and performed selfless acts of service and rescue.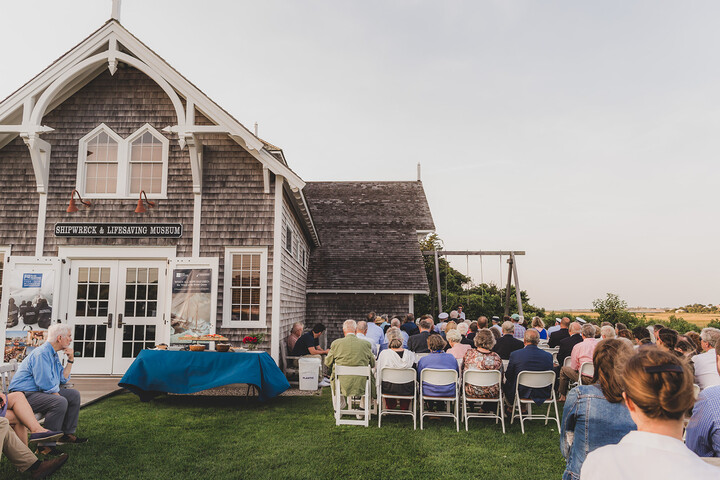 On September 11, 2019, members of Egan Maritime and the Nantucket community gathered at the Shipwreck & Lifesaving Museum to honor Maurice Gibbs and Jennifer Hudson. The ceremony began with welcoming remarks by Egan Maritime's Executive Director, Pauline Proch, who shared the profound significance of 9/11 eighteen years ago, and the remarkable bravery and courage heroes and lifesavers exhibited that day, and always. After a moment of silence and a pause for remembrance, Nantucket Cottage Hospital Interim President and CEO, Jeanette Ives Erickson, provided an overview of the history of Lifesavers Recognition Day and the importance of recognizing those who go above and beyond the call of duty on the island.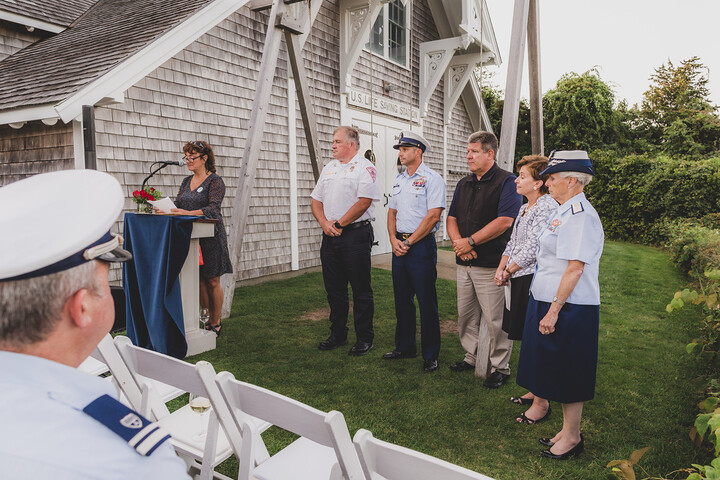 Next in the program, Jessica Guff, Egan Maritime Institute Vice President and Chair of the Nantucket Shipwreck & Lifesaving Museum Advisory Committee, presented moving tributes about both of the honorees and their invaluable contributions to the island. First, she gave a brief summary of Gibbs's background and impact, remarking that "It is for his many lifesaving efforts – and for his service to our country and our island for over sixty years – that we have named the Maurice E. Gibbs Commendation Award after him."

A Nantucket native, Gibbs, after graduating from Nantucket High School, served in the United States Navy for 34 years. During his service, Gibbs received a Bachelor of the Arts and a Masters, and participated in six Antarctic expeditions, one of which he had a mountain, Mount Gibbs, named for him in the Victoria Mountains of East Antarctica. Since retiring from the Navy, Gibbs has served in multiple roles in the Nantucket community, including President of the Shipwreck & Lifesaving Museum. In these various positions, he has displayed humility, steadfast commitment to enriching and serving his coastal community, and the unwavering desire to educate and enhance the lives of those around him. Additionally, Gibbs also served as Flotilla Commander of Nantucket's U.S. Coast Guard Auxiliary, an organization in which he is regarded with high esteem and immense praise.

He received the Maurice E. Gibbs Commendation Award for his efforts over the past 16 years to train individuals through the Auxiliary Coast Guard Boating Safety Classes, his work as a radio operator in the Coast Guard Auxiliary, as well as in recognition of his leadership and organization while running the Nantucket Shipwreck & Lifesaving Museum. Christopher Swiatek, Boatswain's Mate Master Chief of Coast Guard Station Brant Point, presented Gibbs with his award.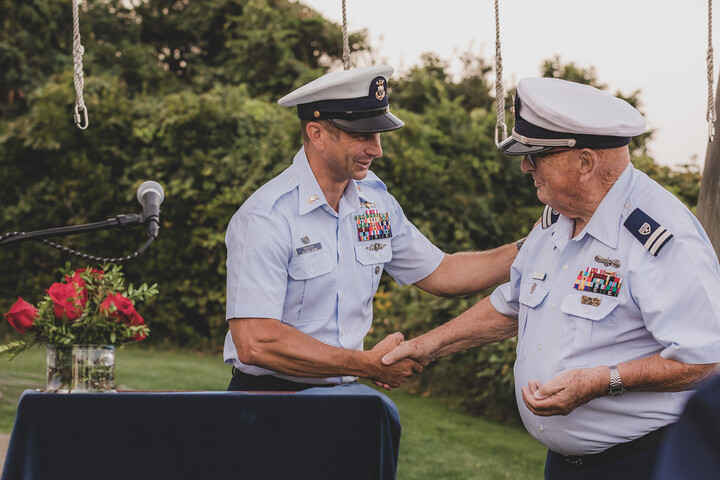 In addition to Gibbs, Jennifer Hudson, Director of Instruction, was also honored with the Maurice E. Gibbs Commendation Award for providing rapid emergency care to a man who had collapsed on the practice range at Sankaty Head Golf Club. After observing commotion at the other end of the range, Hudson sprinted about 60 yards to the 20-year-old man who was on the ground having a seizure. Hudson later wrote, "My first effort was to roll him to his side in case he vomited. He was foaming through his mouth and unresponsive. Then, in what seemed like just seconds later, he stopped breathing. From this point I cannot recall many specific details. I remember feeling completely and overwhelmingly determined and focused. I couldn't hear anything going on around me. I lost sight of who or how many people were standing around us as I started chest compressions." Hudson was able to successfully resuscitate and save Jeff Kiley that summer morning.

Hudson was unable to attend the ceremony, but Mark Heartfield, Sankaty's Director of Golf, accepted the award on her behalf. He was joined by Lori Snell, Sankaty's General Manager and Dieter Wiedmayer, Head Golf Professional at Sankaty. Also in attendance were Keith and Rod Goldstein, the aunt and uncle of Jeff Kiley. Hudson also wrote a letter that Guff shared with the audience. It was meaningful and impactful to hear Hudson's perspective from the day's events. We are honored to have recognized her at this year's Lifesavers Recognition Day.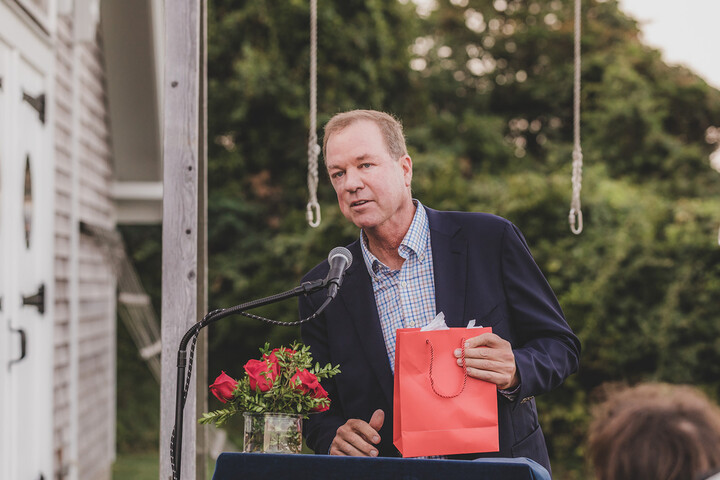 2019 Lifesavers Recognition Day Contributors
For centuries, men and women have dedicated their lives to helping, rescuing and saving others. The unwavering human spirit of the island's lifesavers, past and present, has created a tradition and a legacy of service and sacrifice. It nobly embodies the heroic people of Nantucket. The feats accomplished by those who go above and beyond the call of duty are truly remarkable. Egan Maritime is honored to partner with Nantucket Cottage Hospital annually for the Lifesavers Recognition Day ceremony, and to pay tribute to our island community's heroes. We are grateful to the following for recognizing them and celebrating their selfless deeds. Thank you.

Mr. and Mrs. Joseph J. Aguiar
Mr. and Mrs. Stephen Anderson
Ms. Gale H. Arnold
Mr. Alan F. Atwood
VADM and Mrs. John Baldwin USN (Ret.)
Mary Randolph Ballinger
Mr. and Mrs. William Beattie
Mr. and Mrs. John Belash
Como. Carolyn V. Belmore
Martha H. Butler
Ms. Karen T. Butler and Mr. John F. Thompson
Mr. Bruce Lawler and Mrs. Lisa Clarey-Lawler
Mr. and Mrs. W. Michael Cozort
Mr. and Mrs. Paul J. Crowley
Mr. and Mrs. Edward B. DeSeta
Mr. and Mrs. David S. Deutsch
Lawrence and Nancy D'Oench
Mr. Carl D. England, Jr.
Mr. and Mrs. Garth Grimmer
Mr. and Mrs. Drew Guff
Mrs. Lucile W. Hays
Mr. and Mrs. Brad Henke
Mr. and Mrs. Peter E. Hoey
Dr. and Mrs. Bruce D. Hopper, M.D.
Ms. Elizabeth S. Jacobsen
Mr. and Mrs. J. Richard Judson
Ms. Julie Karcsinski
Adrienne Kirby
Richard and Melanie Kotalac
Mr. Donald E. Lundquist
Mr. Richard C. Mack
Mr. and Mrs. William MacLean
Dr. and Mrs. Malcolm MacNab
Mrs. Cynthia McClintock
Colleen A. McLaughlin and Ken Murray
Mr. and Mrs. Nathaniel Philbrick
Ms. Lorraine F. Pregenzer
Mr. and Mrs. Philip W. Read
Mrs. Marion Rosenthal
Mr. Donald Russell and Ms. Rosemary Lincoln
Mr. and Mrs. Lee Saperstein
Mr. and Mrs. Kenneth Schwanfelder
Mr. and Mrs. David J. Spitler
Mr. and Mrs. James K. Stedman
Ms. Campbell Sutton
Mr. and Mrs. Robert Taylor
The American Home Foundation
Union Lodge F. & AM
Mr. and Mrs. Paul Vineis
Mr. and Mrs. Donald T. Visco
Mr. and Mrs. Thomas A. Whidden
Dieter Wiedmayer
All photos are by Katie Kaizer Photography. If you would like to order prints from the photographer or view the full gallery, please call Egan Maritime's administrative office at (508) 228 - 2505.