Aug 27, 2019 · Museum
Erastus Chapel's Chest from the Muskeget Lifesaving Station Gifted to the Museum
By Michelle Cartwright Soverino

A promise was made to Egan Maritime Executive Director, Pauline Proch, at the May 2019 Nantucket Shipwreck & Lifesaving Museum opening reception: long-time Egan member, William "Bill" Grieder, Jr., shared with Proch that he had his great grandfather's, Erastus Chapel, chest from his years in service at the Muskeget Lifesaving Station. "It is not every day that an Egan member lets me know they have an artifact that was part of the island's remarkable lifesaving service, let alone one they would like to loan to the Museum," said Proch. "Everyone on staff was excited to see the chest."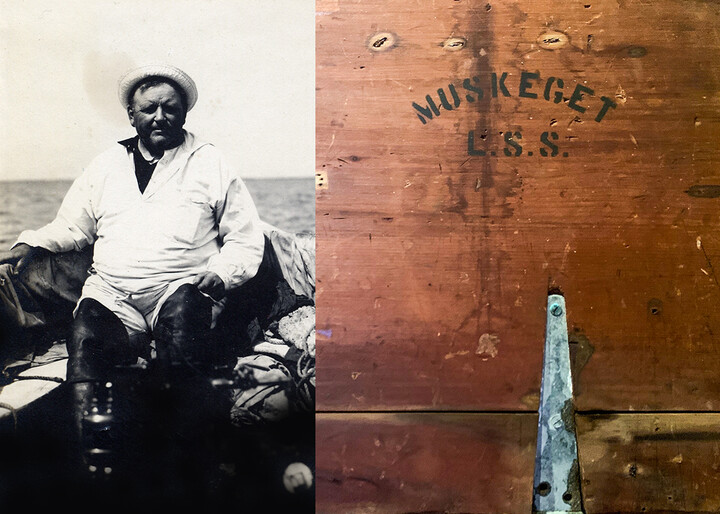 Erastus Chapel (1851—1937) served in the United States Lifesaving Service for 29 years. He was a resident of Tuckernuck Island (the small island off Madaket, located to the east of Muskeget Island), and spent time in the Merchant Marines before becoming a lifesaver. "What's wonderful about the chest is that it is a utilitarian item used everyday by a Nantucketer who happened to have a remarkable job on the remote island--off the already remote island of Nantucket--in the late 19th century," shared Chuck Allard, Museum Manager. He noted, "It not only preserves the story of lifesaving, but also the story of a true Nantucket mariner and character."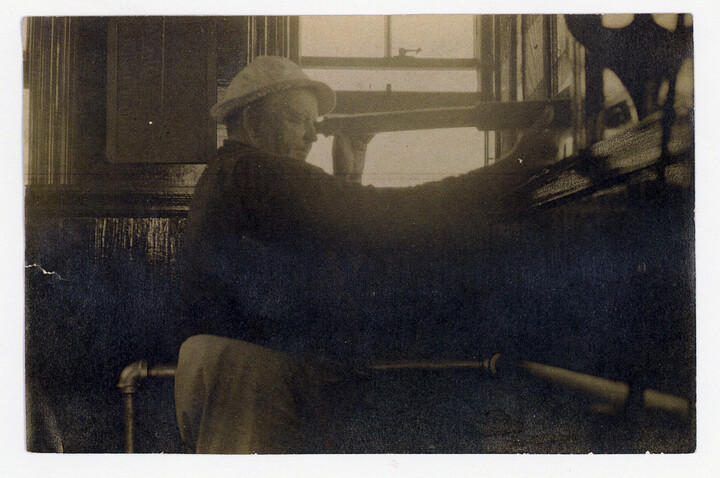 The last quarter of the 19th century was the "hey-day" of big coastal schooners. The waters off Nantucket were loaded with merchant ships and the increase in maritime traffic lead to an increase in maritime disasters. Between 1870 and 1910, hundreds of shipwrecks occurred around the island. In the late 1870's, responding to the growing number of wrecks, the United States government opened additional Lifesaving Stations, allocating one for Nantucket.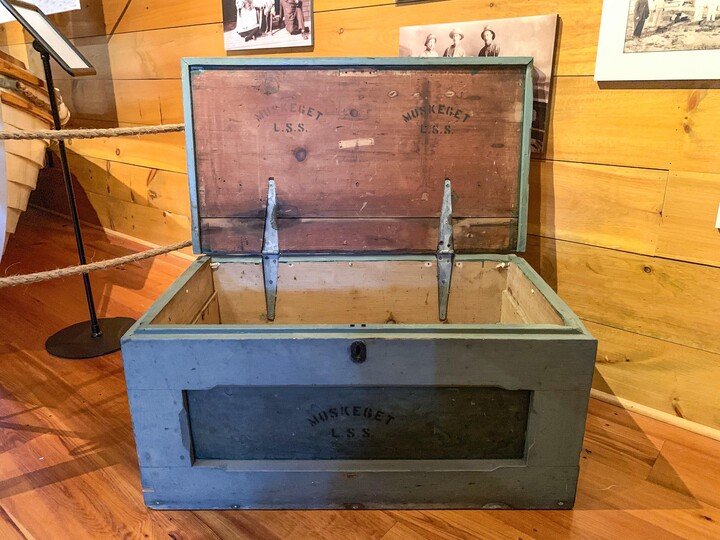 At the end of the 19th century, the Surfside Lifesaving Station had an excellent command over the south shore of Nantucket. However, the area to the far west of the island, notorious for its shifting shoals, was undoubtedly difficult for the Surfside Station to vigilantly patrol. It was decided that the second station built on the island would be located over there, on Muskeget Island—close to the infamous and difficult to navigate Tuckernuck Shoal.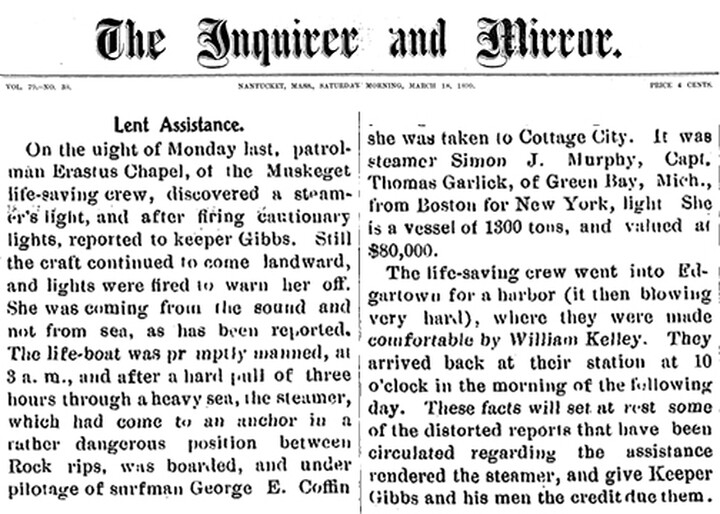 Construction began on the Muskeget Lifesaving Station in August of 1882, and was completed before the year's end. The Station officially opened on January 11, 1883, and Captain Thomas Sandsbury was named the first keeper. His crew was made up of seasoned Nantucket mariners, including Erastus Chapel. Their first rescue took place on May 6, 1883, when the screw steamer Cydonia ran aground on the shoals off the opening of Smith's Point. The vessel was traveling to St. John, New Brunswick from New York when she sailed off course in heavy fog.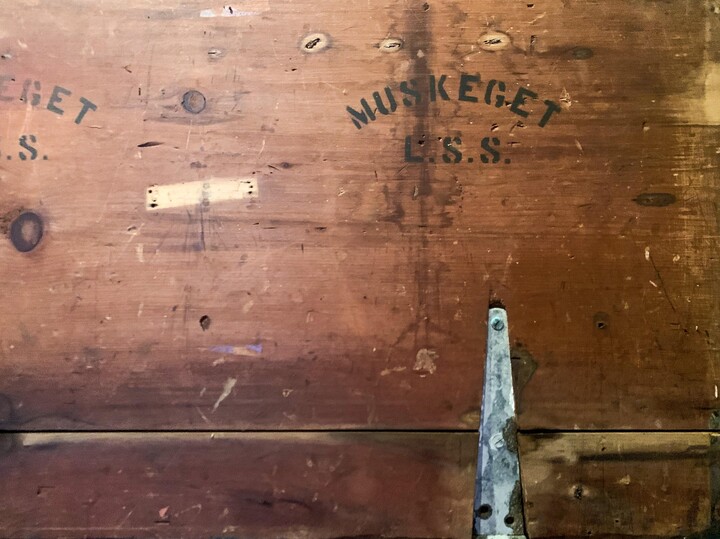 One-hundred-and-thirty-six years later, on an average Tuesday in August, Bill Grieder, along with his wife, Kathy, made a journey out to 158 Polpis Road with Chapel's chest from the Muskeget Lifesaving Station, and graciously gifted it to the Museum. It joins the "Life & Daily Drill" display in the Shannon Gallery, and Chapel's Lifesaving Service cap, which has been on loan from the Grieder family for a number of years. Chapel's chest is certainly a treasure that greatly enhances the Museum's exhibitions, preserving the story and legacy of one of Nantucket's dedicated lifesavers and Tuckernuck resident, Erastus Chapel.
Egan Maritime is humbled and proud to thank Bill and Kathy Grieder for their remarkable gift to the Museum's permanent collection.