Jun 6, 2019 · Museum
Welcoming the 2019 Museum Season with Members, and Paying Tribute to CBM Gordon B. Kenney, USCG
On Friday, May 24, Egan Maritime gathered with members and patrons at the Nantucket Shipwreck & Lifesaving Museum to open the Museum for its 2019 season with celebration and remembrance, as well as the premier of this year's special exhibition, When All Hope Had Died: the Wreck of the British Queen. In addition to enjoying the new exhibition and updates made to the Museum's permanent exhibits, tribute was paid to the late CBM Gordon B. Kenney, USCG. Members of Kenney's family were in attendance, including his son, Steve, who gifted a photo of a Nantucket surfboat to the Museum.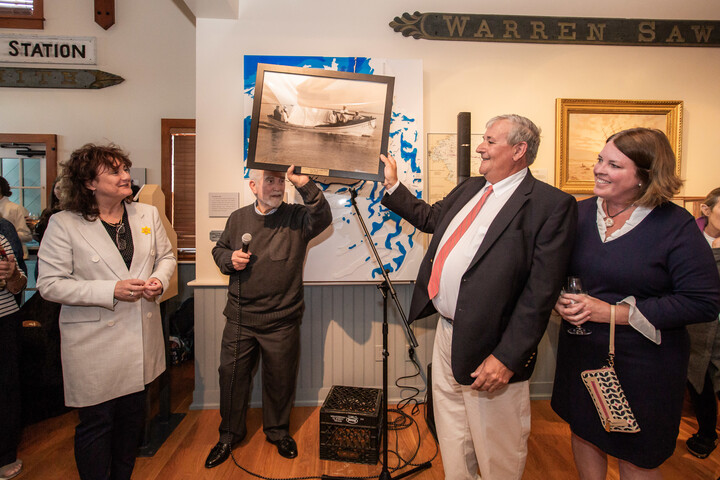 Kenney was born in 1929, and enlisted in the U.S. Coast Guard in November of 1948. After his training, he was put in charge of Sankaty Head Lighthouse for two years and then transferred to the Nantucket Lightship in 1958. He was commended by the U.S. Coast Guard in 1959 for his action in commanding the Lightship, and bringing her in to port during a northwest gale which at times was hurricane force. He later went on to command the Brant Point Station, and spent the last twenty years of his career at the Woods Hole Station. Kenney was a beloved friend of Museum founder, Bob Caldwell, and assisted with the creation of the Museum's collection.
Remarks were made by Egan Maritime's Executive Director, Pauline Proch; Director of Development, Michelle Cartwright Soverino; Charles Allard, Museum Manager. There were over one-hundred members in attendance and Egan Maritime could not have been more thrilled to have a packed house at the season's opening.

This year's special exhibition, When All Hope Had Died, was underwritten by Novation Media.

Photos by Katie Kaizer Photography.