Jun 25, 2019 · Sea of Opportunities
Sea of Opportunites School Collaborations Bring Cardboard Boat Race to Nantucket New School 7th and 8th Grade Students
By Michelle Cartwright Soverino
In January, Evan Schwanfelder, Egan's Manager of Maritime Education, launched Sea of Opportunities' Design, Build, and Race Your Own Cardboard Boat curriculum and program with the seventh and eighth grade students at the Nantucket New School. This was the first time the signature project from Dr. Amanda Bardsley's Oceanography & Maritime Studies Cyrus Peirce Middle School core class was offered to one of the island's private schools, greatly expanding the reach of Sea of Opportunities (SOO).

Throughout the winter during his weekly class visits, Schwanfelder used boat building as a vehicle to teach the Nantucket New School students about buoyancy; displacement; hydrodynamics, and also design functions such as stability, maneuverability and the importance of hull shape. Before diving into their cardboard builds, students built 3-D scale models to first test their designs. The curriculum is project based and offers students the opportunity to learn from tactile experiences that put theory into action in the students' own hands. Nantucket's maritime history and seafaring heritage, highlighting stories from Egan's Nantucket Shipwreck & Lifesaving Museum, is also weaved into the semester-long curriculum.

On Wednesday, May 29, students, teachers, parents, and Egan Maritime gathered at Children's Beach for the inaugural Nantucket New School Cardboard Boat Race. Three races each with three boats representing three teams of seventh and eighth graders participated. Though not all boats were able to finish the course, all students were able to launch their builds and share the enthusiasm for class time spent by the water. The second race became lively when a dog, who had been spectating from the beach, decided to jump in the water and follow the students during their race.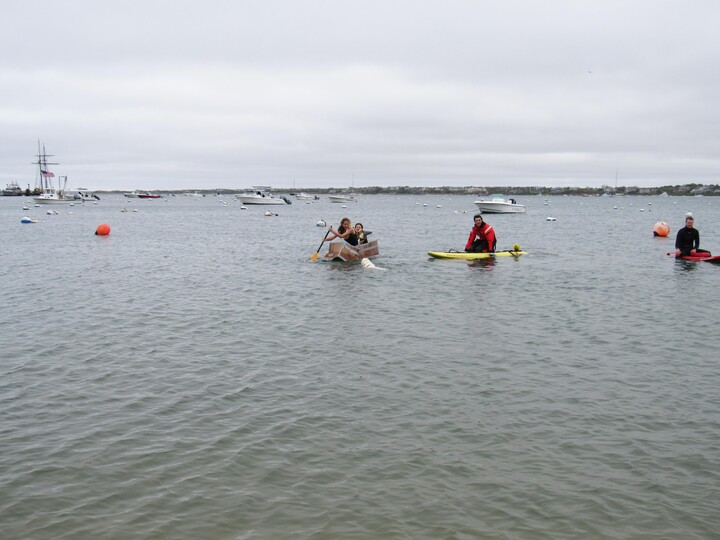 Speaking with Schwanfelder following the race, he shared, "the students responded very well. The project was a lengthy one done over many months. Students did face some challenges throughout the process, but they worked through them, and they all loved seeing the final product. There was so much excitement and enthusiasm at Children's Beach." Bringing the Design, Build, and Race Your Own Cardboard Boat program to other island schools was an obvious move for Schwanfelder, who has focused on enhancing Sea of Opportunities school collaborations since he joined Egan Maritime in early 2018. "The SOO cardboard boat race curriculum in the public school is a wonderful hands-on STEM project that is not only met with enthusiasm, but also offers this experience to more island students. It is a unique way to connect them to their island home while also giving them a great opportunity to learn in a fun, active way," noted Schwanfelder.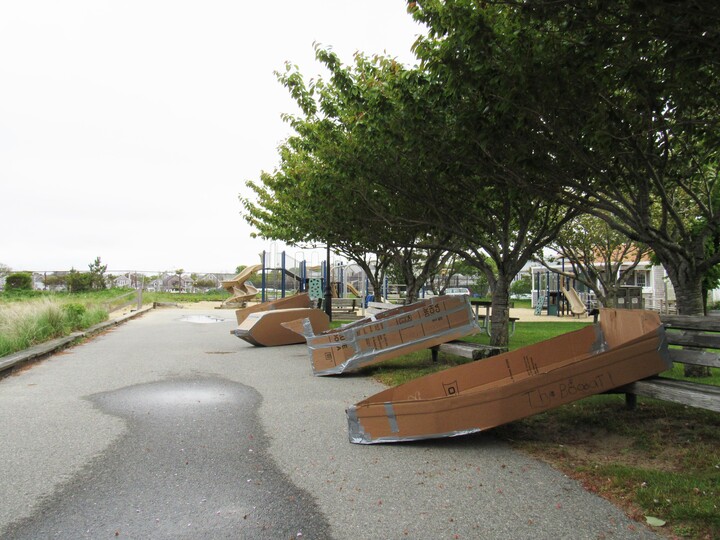 Egan Maritime would like to thank the Nantucket New School parents and teachers; Sheila Lucey, Harbor Master, and her staff; Dr. Amanda Bardsley; and KAM Appliances for a stockpile of cardboard. Sea of Opportunities school collaborations are fully funded and sustained by Egan Maritime's donors, members, and patrons. In an ocean of dedicated contributors, Egan Maritime is proud to thank the Nantucket Golf Club Foundation for their loyal support of Sea of Opportunities, and making the 2019 Nantucket New School Design, Build, and Race Your Own Cardboard Boat program possible.