Jun 28, 2019 · Sea of Opportunities
Eight Nantucket Middle School Students Partake in Egan Maritime's 2019 Sea of Opportunities Student Mariner Sails
By Michelle Cartwright Soverino

Over two weekends in June, eight students who just finished their eighth grade year at Cyrus Peirce Middle School embarked on a sail around Nantucket Sound. Known as Student Mariners after completing their journey, the youth live and work alongside Tall Ship Lynx's crew to learn the ins and outs of traditional Tall Ship sailing.
Student Mariner sails are offered at no cost to the students and their families as they are fully funded by Egan Maritime's donors and patrons. Aboard, they are expected to be a learning member of the crew working the sails, climbing aloft and handling ropes, standing watch, and helping with the upkeep of the ship while also gaining a rudimentary knowledge of sailing.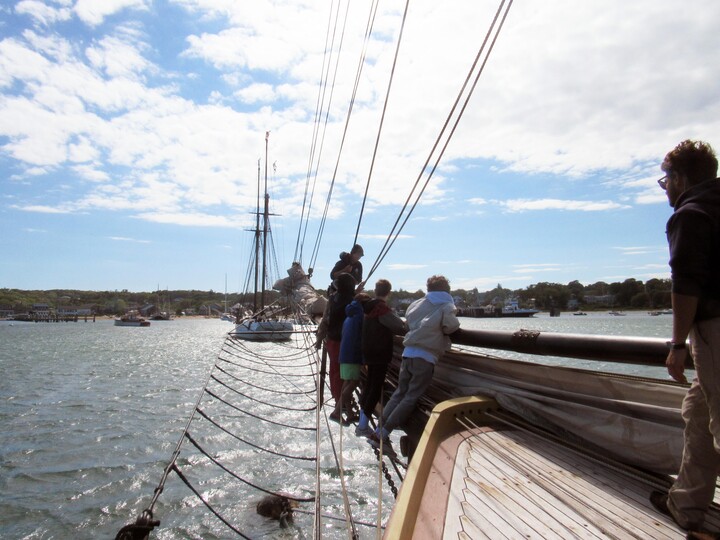 In addition to their experiential, teaching component, the sails have proven to be a pivotal experience for the youth who participate. Egan Maritime's Manager of Maritime Education Evan Schwanfelder noted, "The students begin their journey as outsiders and really begin to integrate while under sail. Through the process you see growth." Captain of Tall Ship Lynx, Donald Peacock, shared, "This is our time to offer personal development and self-discovery to these kids on the voyages. We are making an impact; I know I have been personally affected in a great way from this environment."
The first 2019 sail was an overnight sail to Vineyard Haven and back. The students departed on the morning of Thursday, June 13 from Commercial Wharf. Tall Ship Lynx is an ideal partner for the sails—her mission is deeply rooted in education and outreach. 2019 is the fifth year Egan Maritime has employed Tall Ship Lynx to host the Student Mariner sails, connecting youth to their island home's vast seafaring heritage.
First "Lynx" Sail Photo Gallery
"Lynx is not just a boat, but a team effort story," wrote Sean M., who participated in the first Student Mariner sail. "My experience on the Lynx was awesome, it was all team work. Little things, big things, whatever we did there was team work." "This was an excellent opportunity and a lot of fun," commented Justin R., "the crew was amazing and made everything as fun as possible."
The second Middle School sail departed Commercial Wharf on Thursday, June 20. The students spent two nights and three days aboard the ship. Their first port of call was Vineyard Haven where Tall Ship Lynx was able to stay on Tall Ship Shenandoah's mooring. On Friday, June 21 Lynx and the students made their way to Woods Hole, where they were docked next to Corwith Cramer, another sea education vessel. While in Woods Hole the Student Mariners enjoyed a tour of the Woods Hole Oceanographic Institute, and even fished off the dock catching striped bass and scup.
On Wednesday, June 26, four students from Nantucket High School boarded Lynx for a five day sail. When they return to Nantucket on Sunday, June 30, Egan Maritime will have sent a total of 71 youth on Tall Ship sails. Since the sails began in 2014, out of the 71 students, 19 have graduated from Nantucket High School (the rest are still enrolled there), and 5 have gone onto Maritime schools; two to Massachusetts Maritime Academy and three to Northeast Maritime Institute. Additionally, two students participated in Semesters at Sea, and another has set plans to join the Navy. These students claim that their time onboard Lynx and in Egan Maritime's Sea of Opportunities classroom experience was vital to their choice of career path and post-high school experience. To date, Sea of Opportunities has had 4,703 student interactions, by land and by sea.
Second "Lynx" Sail Photo Gallery
Egan Maritime's leadership is dedicated to providing maritime education for island youth. Maryann Hedaa, Egan Maritime Trustee and Chair of the Sea of Opportunities Maritime Education Program noted, "The Board believes deeply in our Mission 'to inspire the appreciation and preservation of Nantucket's maritime culture and legacy.' The Sea of Opportunities Program is our commitment to a living mission statement that focuses on maritime education experiences for the young people growing up on Nantucket. " She continued, "We believe maritime education is a tool to help young Nantucketers work together, to understand and respect their island environment, to motivate them to think of maritime careers and service opportunities and above all to offer students an opportunity to test their curiosity and courage by stepping out and trying new things, to develop a deep respect and sense of stewardship for the environment and perseverance to finish maritime projects that are both challenging and require teamwork. We think the Sea of Opportunities Program is one way to inspire young people to appreciate and preserve the history and beauty of Nantucket."