Apr 24, 2019 · News
Marine Artist Rodney J. K. Charman Was Commissioned by Egan Maritime Founder, Bud Egan, to Paint Nantucket's Early History
By Michelle Cartwright Soverino

From the founding of the island in 1659 until the nineteenth century, more than 200 years of Nantucket history were never recorded by artist or camera. Only the scrimshaw of whalemen existed to depict the Golden Age of Whaling or scenes from early Nantucket. By the mid-1980s, few artists ever captured the local views and activities of island days of yore. Wanting to illustrate Nantucket's significant moments in history, Egan Maritime founder, Albert F. "Bud" Egan, turned to art. It was his desire to capture some essence of Nantucket's seafaring stories.
During the early 1980s, Egan, accompanied by his wife, Dorothy, traveled to the United Kingdom. There, they met marine artist, Rodney J. K. Charman, and Egan was impressed by the artist's exhibited works. "He was the sort of person who would make things happen," said Charman. "When he had a vision to set up a museum to celebrate the maritime history of the Island he was looking for artists to document the past and his search brought him to the U.K. where he saw my work in a marine art exhibition in 1984. He was obviously taken with my work as, on his return to the island he phoned me one night to invite me over the Atlantic to discuss and research possible subject matter."
Always wanting to find an artist to help him achieve his vision of a body of painted works that represented the island's history, Egan inquired with Charman about commissioning historic paintings after his return to Nantucket. In recent correspondence with Charman he wrote, "Mr. Egan's habit was to make his business calls in the evening after a day on the golf course. With the time difference his calls to me would be late evening and you can imagine what it was like for me to receive a call, late at night, from across the Atlantic asking me to visit the legendary Island of Nantucket." Charman accepted and soon traveled to the island.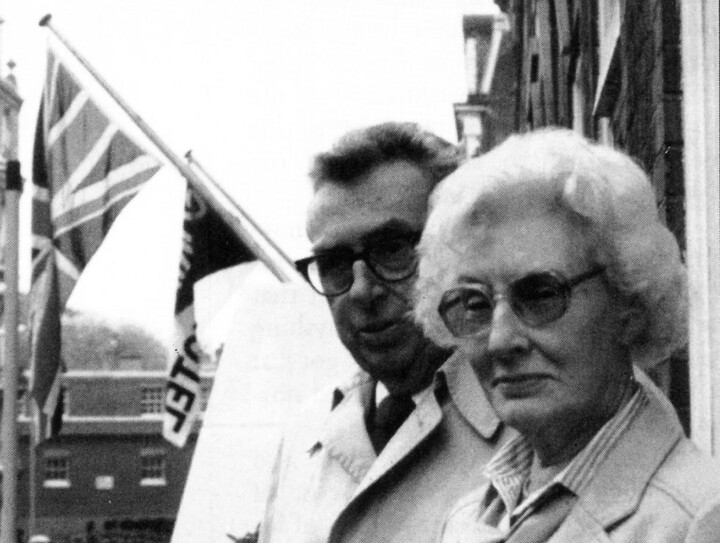 Rodney J. K. Charman was born in 1944, near the town of Lymington, England, where he has lived all his life. His career in painting began at the age of twenty-one when he received a set of oil paints for his birthday. With no formal art training, Charman began his art career as a self-taught painter, always working in oils and in his own natural style. From the portrayal of varied subjects, including landscapes, portraits and equestrian studies, he soon returned to his first love: ships and the sea. Once he found his true talent for the marine scene, his future was established.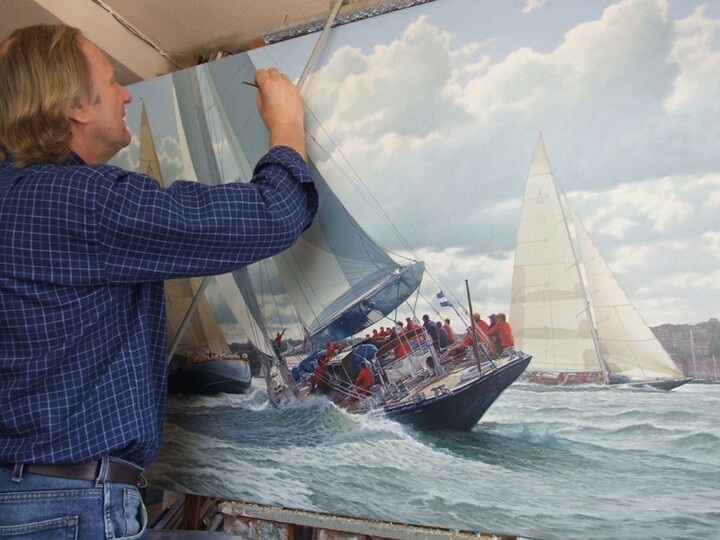 It was Charman's immersive creative process and keen eye for minute touches that solidified his relationship with Egan, and no doubt impressed him. "From the start," said Charman, "Mr. Egan and his wife, Dorothy, made me feel completely at home." Indeed, Egan welcomed Charman into his own unique Nantucket. The artist had already become an integral part of his legacy. "Mr. Egan was always extremely proud of his Island home. On my frequent visits he would always go for a drive and every time it would be somewhere interesting and unusual and always places that were new to me. If I had friends, family or acquaintances on holiday in New England, he would arrange to have them flown over and would treat them to lunch and a tour of the Island," said Charman.
Egan's relationship with Charman began with a short series of works. "The idea was for me to complete two paintings out of a series of eight that he had outlined. He introduced me to important and knowledgeable people including the great Nantucket historian Edouard A. Stackpole, and to the research facilities at the Nantucket Historical Association. I returned home with plenty of information and bustling with thoughts. Mr. Egan visited the UK again a short time later where I met up with him to discuss my ideas and to go over sketches that I had prepared."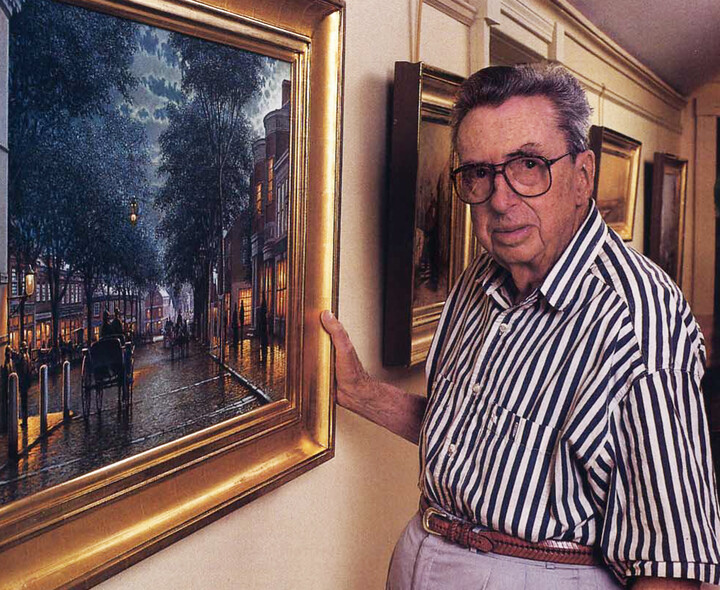 From then on, the relationship between the artist and his Nantucket patron was indestructible "I completed two paintings," said Charman, "and went on to paint eight subjects and around fifty more. Mr. Egan was well versed in the island's history and would be the instigator for most of the subjects I covered. The paintings were exhibited in the old Coffin School—Mr. Egan had been a pupil there decades before—where he set up his museum and later the Egan Foundation, today known as the Egan Maritime Institute."
When Charman's first Nantucket works were displayed on the island at the Coffin School, they received a favorable response. Noted Charman, "there was no looking back after that," and Egan soon commissioned the artist to research and produce more paintings of important events in Nantucket history—bringing his desire to curate a collection of island works to fruition. The complete series of Charmans recaptures the great events of Nantucket history and brings them to life through the skill of a great artist. In 1989 Egan, along with friend and island historian, Robert F. Mooney, published a selection of Charman's paintings with Egan Maritime's Mill Hill Press, titled, Portrait of Nantucket, 1659 – 1890.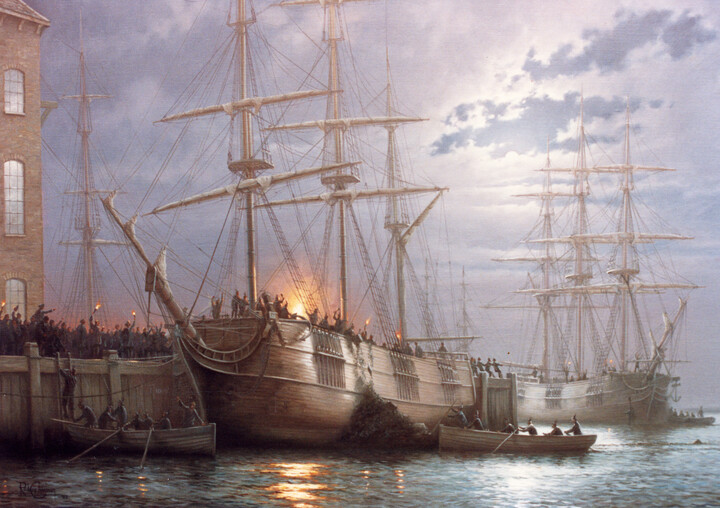 In addition to his many works on Nantucket, Egan also commissioned Charman to paint other historic moments that he had a deep personal relationship with. "Mr. Egan also remembered his Irish heritage and bought a collection of 23 paintings that I had produced for a book called The Famine Ships, depicting the ships that brought the immigrants from Ireland, and he arranged for them to be exhibited at the South Street Seaport Museum in New York," said Charman. Serendipitously, one of Egan's commissions, a painting of the ill-fated Irish passenger ship, British Queen, will be the focal image for the Nantucket Shipwreck & Lifesaving Museum's 2019 special exhibition, When All Hope Had Died. It seems that Egan was far ahead of his organization, for the then Nantucket Lifesaving Museum was at least a decade away from becoming part of Egan Maritime Institute at the time of the painting's commission.
Charman's best works demonstrate the glory of historic sailing ships and scenes—the clipper ships, the whalers, and the working schooners of the 19th century. His paintings are the product of meticulous research and attention to detail. To accomplish their accuracy and splendor, Charman travels extensively. It is his mission to provide authenticity in his work, best cultivated through an intense study of marine subjects. His honors include selection for the International Maritime Arts Awards Show in Mystic, Connecticut, a profile in the definitive work, 20th Century British Marine Painting, and successful one-man exhibitions in Lisbon, Portugal, and on Nantucket. Pursuing his other maritime interests, he has gained practical experience aboard the sailing schooner Malcolm Miller and on the X-Boat racing yachts in his home town of Lymington.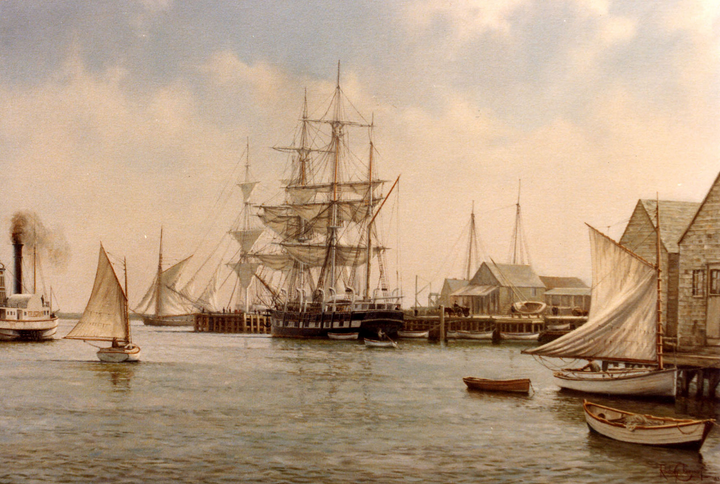 For Nantucket, Charman is known as the artist who gave the island its portrait. His preliminary meeting with Egan led to an island narrative told through art. Reflecting on Egan, Charman noted, "He loved Nantucket and everything he did was for the good of the community." By the end of his life, Egan was a great benefactor of art on Nantucket and there is no doubt that he left an impressive collection of art for the island. He also greatly impacted a select group of artists, on and off the island, who were able to establish vibrant careers thanks to his patronage. "I feel privileged to have known him," said Charman, "he was a wonderful host and patron and I miss his charm and humor."
A Selection of Charman's Works From "Portrait of Nantucket, 1659 - 1890"
Narratives written by the late Robert F. Mooney.