Jul 4, 2019 · News
From the Egan Art Collection, Rodney Charman's "The Opening of the Nantucket Railroad"
By Michelle Cartwright Soverino

In the 1960s Egan Maritime's founder, Albert F. "Bud" Egan, began a private collection of marine art and original works depicting Nantucket and its great perspective on the early American experience. Twenty years into collecting, during the 1980s, Bud was frequently flustered at the lack of imagery illustrating not only the early years of settlement on Nantucket, but also significant moments that moved the island's community and economy forward—beyond the great scope of whaling. Seeking to rectify this historic dilemma, Bud employed British marine artist, Rodney Charman, to research and paint pivotal Nantucket moments for future generations to enjoy and engage with.
One of these paintings is that of the inaugural Nantucket Railroad trip, which occurred on July 4, 1881. The route was designed to bring passengers from Straight Wharf to Surfside, on the island's South Shore. It then continued along the shore east to the village of Siasconset. In its early years, the railroad was a popular attraction for tourist and residents. The line closed in 1917, and during World War I parts of it were sent to France to aid the allies, with the exception of one car that remained on Nantucket.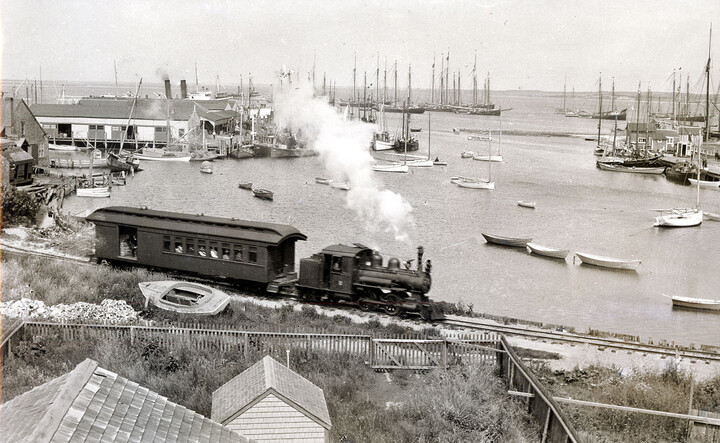 In 1989, wanting to create a book with highlights of his commissioned collection of Charman paintings to share with the public, Bud employed local Nantucket historian and friend, Robert F. "Bob" Mooney to write narratives for his selected works. The below paragraph was penned by Mooney for the project, which was published under Egan Maritime's Mill Hill Press in its 1989 title, Portrait of Nantucket, 1659-1890.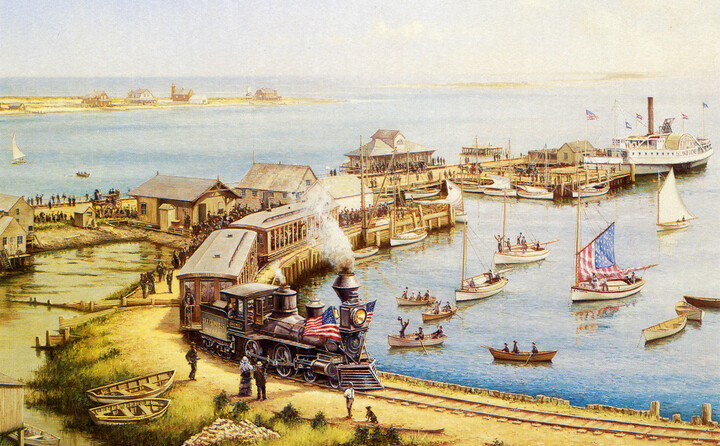 The Opening of the Nantucket Railroad, 1881
This dramatic scene depicts one of the most colorful events in Nantucket history—the inaugural trip of the Nantucket Railroad, which took place on schedule, July 4, 1881. Inspired by local promoters and mainland investors, the railroad ran on a narrow-gauge track. It was designed to run from Steamboat Wharf, along Easy Street and Washington Street and thence out to the booming village of Surfside, three miles away, with a later extension to Siasconset. Featuring a single engine named Dionis, for Tristam Coffin's wife, and two passenger cars, the route proved to be a popular tourist attraction during the summer for several years. It was also a thrill for the islanders, many of whom had never seen a train before. In later years, the little railroad became the victim of storms and surf, which washed away the tracks to 'Sconset, and to declining revenue. The route was finally torn up and sent to France to aid the Allies in World War I. Yet for many Nantucketers, the colorful years of the Nantucket Railroad were a journey which will never be forgotten.