Apr 29, 2019 · News
From obsession to legacy, there is more to the Egan family art collection than that which meets the eye.

By Olivia E. Jackson and Michelle Cartwright Soverino

Albert F. "Bud" Egan's passion for art was cultivated later in life. He thoroughly enjoyed collecting and commissioning original works from a variety of international and local island artists. Over several decades, Bud created a rich and diverse collection that became part of his island legacy when he bequeathed it, in its entirety, to his Foundation—today known as the Egan Maritime Institute.
At its origin, the Foundation's primary purpose was to venerate and exhibit the Egan family's art collection. It leased the Coffin School on Winter Street in the 1990s, and transformed the space into a gallery that showcased beloved works depicting the island and its seafaring history from their collection. This museum experience was transformational for the organization. With docents available to give guided tours, the Coffin School gallery provided visitors with historical narratives from the island's seafaring past accompanied by pieces of art that enhanced and amplified the stories.

Bud's patronage and love of art began while he was involved in the operations of the Marine Home Center, an enterprise he later purchased in 1965. Island artist, Nikita Carpenko was a frequent visitor of the carpentry shop. He would go in search of wood scraps, and later used them to create unique works of art that not only grabbed the attention of Bud, but the Nantucket community and beyond.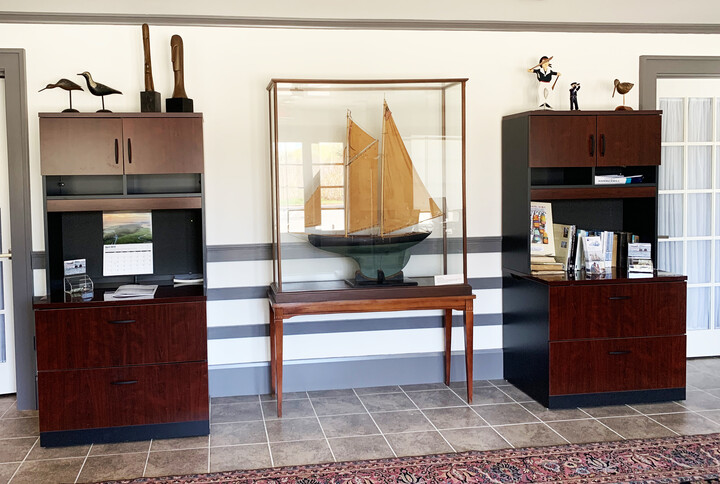 Carpenko, born in Russia in 1898, came of age during the Russian Revolution. He was sent to a military boarding school despite his innate aspiration to be a sailor and shipbuilder. He was spared from hazing by the other students because of the respect he garnered from the model ships he built. He later served as a cavalry officer in the Russian Army during the reign of Czar Nicholas II and received the Czar's highest award for heroism, the Cross of St. George, during the Bolshevik Revolution. In 1918, he journeyed to America. He attended the San Francisco School of Fine Arts, studying painting and sculpture for seven years. Following his schooling, he lived in New York for two years before making Nantucket his home in 1927.
For more than a decade following his arrival on Nantucket, Carpenko built ship models for a living. He quickly developed a reputation as a master builder, and in 1941, a gallery in Manhattan exhibited his acclaimed work, giving him widespread recognition and positive publicity. As he began to receive public attention, "press releases described him as a specialist in American ships of 1750-1850 who dug clams during breaks from twelve-hour workdays in his Nantucket studio, where he also slept" (The Other Islanders by Frances Ruley Karttunen).

In the late 1940s, Carpenko transitioned from ship models to sculpture. According to multiple sources, his shift in artistic vocations occurred when he picked up a table leg and whittled it into an elongated head. He was fascinated by the result. He then began to carve, shape, and create works of art on anything he could find, including scraps of wood from Marine Home Center, and would shine his finished pieces with shoe polish.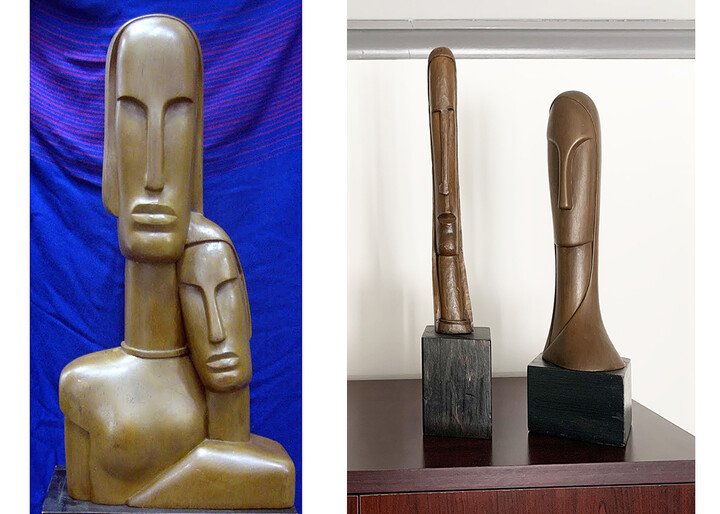 Carpenko's unique and creative sculptures sparked Bud's initial interest in art. Bud observed and interacted with the sculptor as he visited the shop, admiring the finished products and gradually developing what would become a lifelong love of art. "I thought they were quite outstanding. He always wanted to give them to me, but I thought he should be earning a living," Bud later recalled of Carpenko (Nathaniel D. Philbrick "From Humble Beginnings," 1996 Nantucket Magazine).
Three years after his initial whittle of the table leg, Carpenko produced more than 100 sculptures. His work was exhibited in a New York Gallery, the Guggenheim Museum, and was featured in Life Magazine. Shortly before his death in May of 1961, Carpenko had visited New York where he attended a special exhibition of his paintings and sculpture at Gimbell's Department Store. In the Egan family collection, Bud purchased and owned multiple Carpenko pieces including both sculptures and ship models, one of which may viewed today at the Nantucket Shipwreck & Lifesaving Museum.
Carpenko and his original works were, according to some, the catalysts for Bud developing an interest and love of art. However, he was not the only influence in Bud's art circle. Robert "Bob" Congdon, of Congdon & Coleman Insurance Agency, took Bud on a trip to Cape Cod where they attended an art auction, and Bud soon discovered the masterful paintings of a former mariner, Anton Otto Fischer.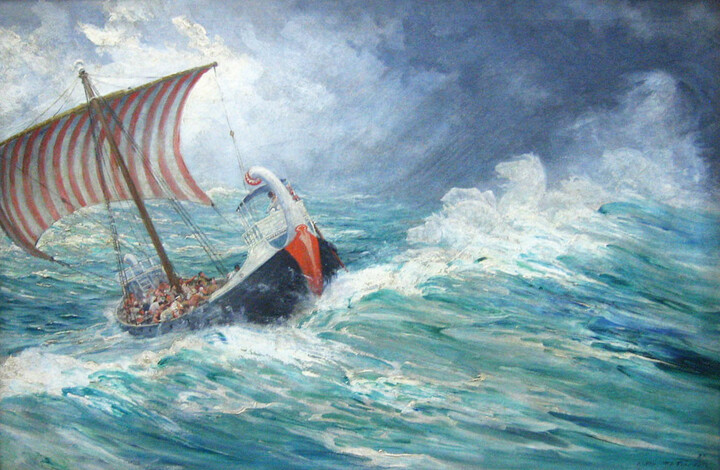 Anton Otto Fischer, a German émigré born in 1882, worked on ships until becoming a handyman and model for artist Arthur Burdett Frost. Fischer's relationship and connection to Frost inspired him to pursue a career in art. In 1906, he went to Paris to study for two years with Jean Paul Laurens at the Academie Julian. After returning to the United States, he sold his first illustration to Harper's Weekly in 1910. Later that year, Fischer was hired by The Saturday Evening Post, for whom he would work for over 40 years.
Fischer painted illustrations of various subjects, including women and children, but his particular forte was for nautical themes such as sailing and the sea. In addition to pieces he did for The Saturday Evening Post, he also did illustrations for classic books such as Moby Dick, Treasure Island, and 20,000 Leagues Under the Sea, all of which have a maritime connection. In the Egan family collection, there are several paintings that were printed in the 1947 edition of Treasure Island, including The Ship Hispaniola, which depicts a port bow view of the 18th century Brigantine.
During World War II, Fischer's affinity for marine painting assisted in his ability to create propaganda posters, which he was later recognized for when he was honored as an artist laureate of the United States Coast Guard. Additionally, he was later sworn into the Coast Guard as a lieutenant commander and was charged with painting some of the heroic deeds done by the Merchant Mariners and Coast Guardsmen. These illustrations now reside at the United States Coast Guard Academy in New London, CT.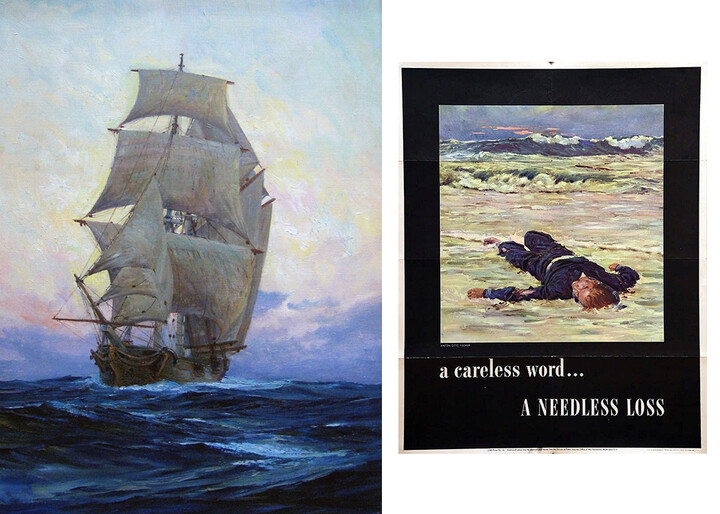 In addition to the works of art by Fischer that the Egan's collected, Bud helped publish an American edition of the European work, Anton Otto Fischer: Marine Artist, in 1984. The book was printed by Mill Hill Press, a publishing house that would later become part of the Egan Foundation, and today Egan Maritime Institute. The Egan's collection of Fischer's work includes a variety of nature and maritime scenes, as well as some of the artist's illustrations.
For several Nantucket artists, Bud's patronage made it possible from them to pursue careers in the art world. One island artist that Bud supported and became friends with was C. Robert Perrin. Born in Medfield, MA in 1915, Perrin attended and graduated from the Art Institute of Boston. He moved to Nantucket after serving as an illustrator in the U.S. Army from 1939 to 1946. A Boston patron had introduced him to the island. Perrin began painting on Nantucket in 1946. Ten years later, in 1956, Perrin opened the first gallery on Old South Wharf, which also served as his studio.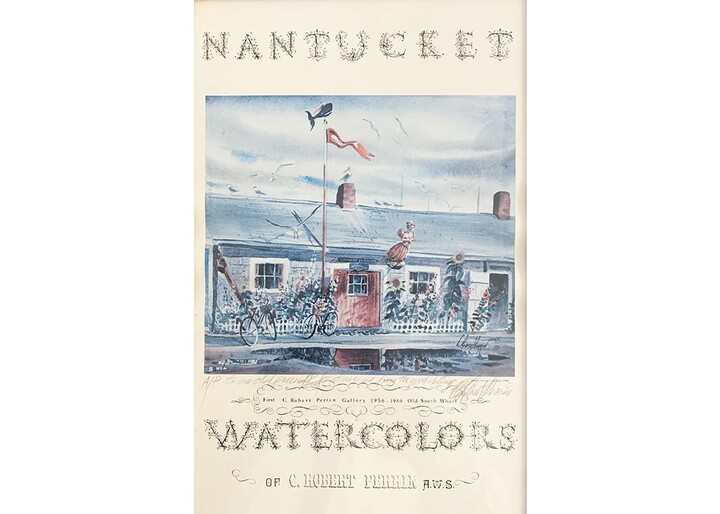 Perrin's special artistic vocation was watercolors. He was intrigued by ghosts and shadows, and incorporated many in his works. He had a particular affinity for depicting nature, fog, and ghosts. Perrin had a unique style to his watercolors; the paint almost had a translucent effect and he utilized a specific gray color. In the Egan collection, Bud purchased a piece titled A Nantucket Love Story. It depicts a picturesque nettle bush growing at the edge of grasses on the beach with turbulent surf in the background. There are two disguised ghost figures that complete the composition. Bud had this painting made into a limited edition print, some of which he had framed.
Another Nantucket artist that caught Bud's interest was Maggie Meredith. Born in 1922 in New York, Maggie's artistic inclination occurred later in life. As a teenager, she danced and performed regularly in the Rainbow Room at the Waldorf Astoria in New York City. After meeting her husband, Stan Meredith, they moved to Nantucket. It was here where Maggie began painting.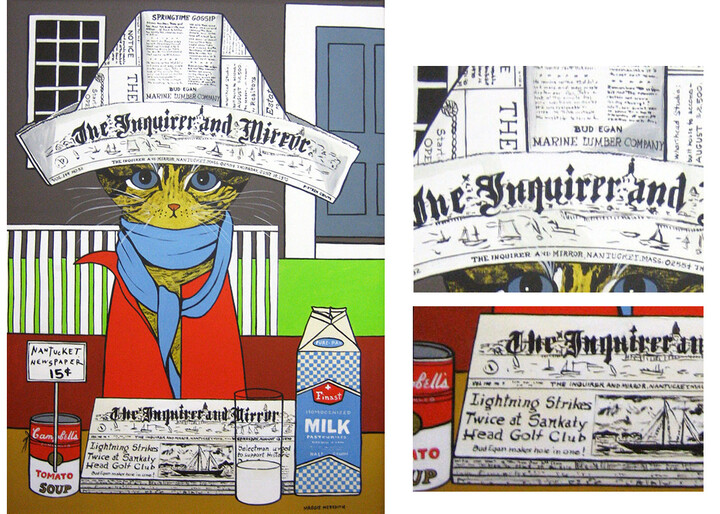 In 1962, Reggie Levine, owner of graficas gallery on Main Street, encouraged Maggie to exhibit her work. Shortly after, her work was exhibited in multiple galleries on Nantucket. Maggie's art is unique. She was best known for her acrylic paintings of active, clothed, whimsical felines. The painting, The Newsdealer, was part of the Egan family collection. It depicts a cat in front of a house with a newspaper hat made from The Inquirer and Mirror. Bud Egan is mentioned in both newspapers in the image; in the hat he is listed under the "Springtime Gossip" column and in the folded newspaper, he is mentioned as making a hole in one at Sankaty Golf Course.
In addition to collecting works by Nantucket artist, Bud also researched and learned more about the history of art on the island. He collaborated on a book titled, Art on Nantucket: The History of Painting on Nantucket, which was published in 1982. Despite the growing amount of art that featured Nantucket as a subject, Bud realized that there was a deficit in the pictorial depictions of the island's history. But in 1984, after Bud and Dorothy, his wife, visited England, a private commission of a British artist, Rodney J.K. Charman, would eradicate this visual history void indefinitely.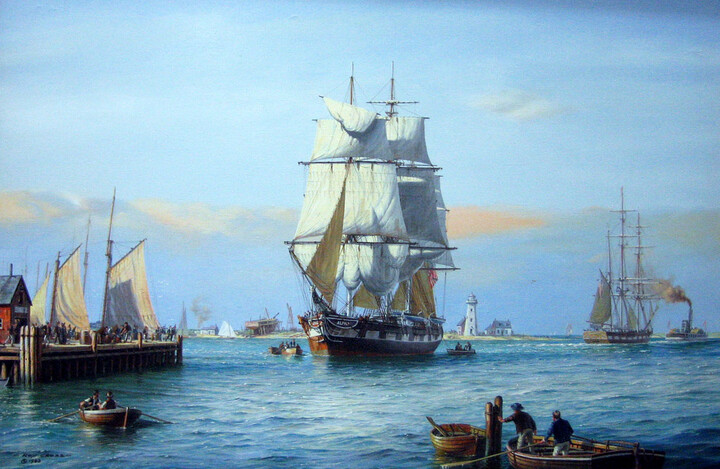 Around the same time, Bud began collecting works by another British artist. Roy Cross, born in London in 1924, was a primarily self-taught artist. Despite his initial interest in airplanes, which he illustrated frequently, especially during World War II, he transitioned to marine subjects, which he specialized in since the 1970s. He was elected as a full member of the Royal Society of Marine Artists in 1977, the first year his work was exhibited there. In the Egan family collection, there are several works of whaleships entering and departing Nantucket harbor, including Whaler Improvement Leaving Nantucket, 1820, which depicts the whaleship sailing toward the viewer with Great Point Light in the background.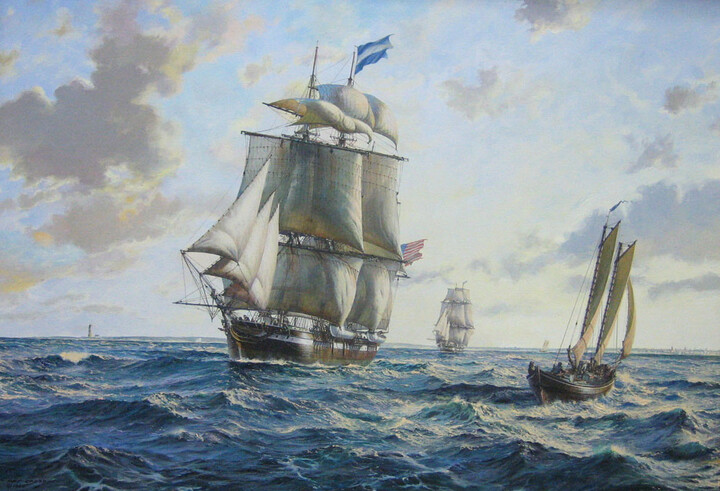 The Egan family art collection is an impressive assortment of works from a variety of local, national, and international artists. This esteemed collection was the beginning of the Egan Foundation; it helped tell and propagate the stories of Nantucket's maritime history. Several pieces gave pivotal events in the island's creation and history a visual representation for the first time. Although it was an avocation he developed later in life, the works Bud purchased for his family's collection were an essential part of his innate desire to enrich, inspire, and cultivate a vibrant cultural appreciation in his beloved island community. This collection was the beginning of Egan Maritime Institute's establishment. Thirty years later, Egan Maritime is honored to display numerous works from the collection at both the Nantucket Shipwreck & Lifesaving Museum and Egan Maritime Administrative Offices.